Bed dimensions – a quick guide
When it comes to bed size, in our opinion – the bigger, the better. Nothing beats a spacious yet cosy bed to stretch out in. But before you add a super king to your basket, be sure to double-check the...
When it comes to bed size, in our opinion – the bigger, the better.
Nothing beats a spacious yet cosy bed to stretch out in. But before you add a super king to your basket, be sure to double-check the space you have available.
The new bed will not only need to fit comfortably in your bedroom, it'll also need to fit through the front door and be carried safely up the stairs. So to avoid any disappointment on delivery day, here we've created a handy guide to help you measure up and choose the ideal size for your home.
Standard UK bed sizes

Fortunately, UK bed sizes are standardised – which means, wherever you shop, they're guaranteed to have the same dimensions in terms of their length and width. But it's important to be aware, the bed dimensions outlined above refer to the size of the mattress – not the bed frame.
For example, a double bed is designed to accommodate a standard UK double mattress – but the outer frame may measure slightly bigger, particularly if it's wooden or upholstered. So before you make a purchase, check the full measurement details of the bed very carefully and ensure you have enough space for the particular design you have chosen.
How to measure for a new bed – will it fit?
Step 1: Check the bed dimensions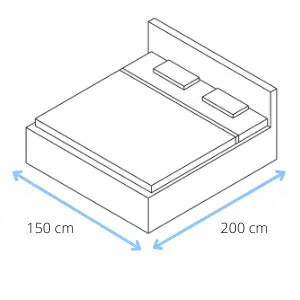 First things first, measure the space you have available – including the length, width, and height (for high-sleeper or bunk beds). If you plan to position the bed in an alcove or recess, we recommend measuring from skirting board to skirting board, rather than wall to wall. It may not seem like much, but a few centimetres can make a huge difference to what fits and what doesn't.
Then, compare the dimensions of the room to that of your chosen bed. Is there enough space?
One good tip is to mark out the bed's measurements using masking tape. This should really help you to visualise how much space it would take up and how easily you'd be able to move around it. Ideally, you'll need at least 60cm of walking space at the foot of the bed and on either side.
Step 2: Think about the surroundings
Once you're certain the bed will fit in the intended space, it's also important to consider the impact it would have on other furniture. Think about any doors, wardrobes or drawers currently in the room. Would the new bed block their access? Or make it difficult for you to walk around?
If you plan to buy additional furniture alongside the bed (e.g. bedside drawers, wardrobes), again, it's worth marking these out on the floor with masking tape. And if the new bed features storage drawers, you'll need to allow enough space on each side for them to be pulled out.
Step 3: Measure the rest of your home
The bed may fit in your bedroom, but can you actually get it there? From awkward doorways to narrow staircases, there are many obstacles to navigate. And to avoid any hiccups on delivery day, it's important to measure the access route carefully.
Compare the bed's dimensions to that of the doorways, hallways and stairs. The bed can be manoeuvred in any direction or angle. So it's a good idea to measure the height and width, as well as diagonally. And make sure your new bed could be carried successfully, all the way to the bedroom, without causing any damage.
Need further advice on bed measurements?
You're welcome to contact us at any time.
After all, beds are our area of expertise, here at Dreamers Bed Centre. We know everything there is to know about bed measurements and our online collection features the full range of sizes – with something to suit all requirements. So, we're always happy to help.
If you have any questions or would like further advice on how to measure your home, just give us a call on 01942 275 464 or send an email to info@dreamersbedcentre.co.uk.
It's also worth popping down to our showroom in Ashton-in-Makerfield. We have the full spectrum of bed sizes on display for you to see, so you can compare the different dimensions, try them out for yourself, and ensure you're making the right purchase.