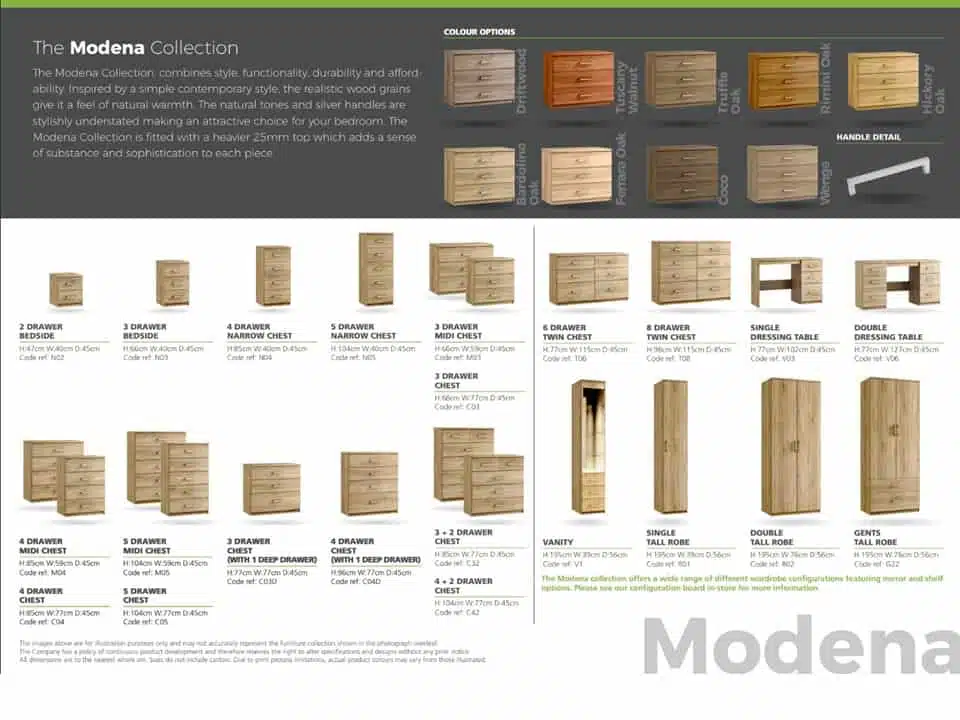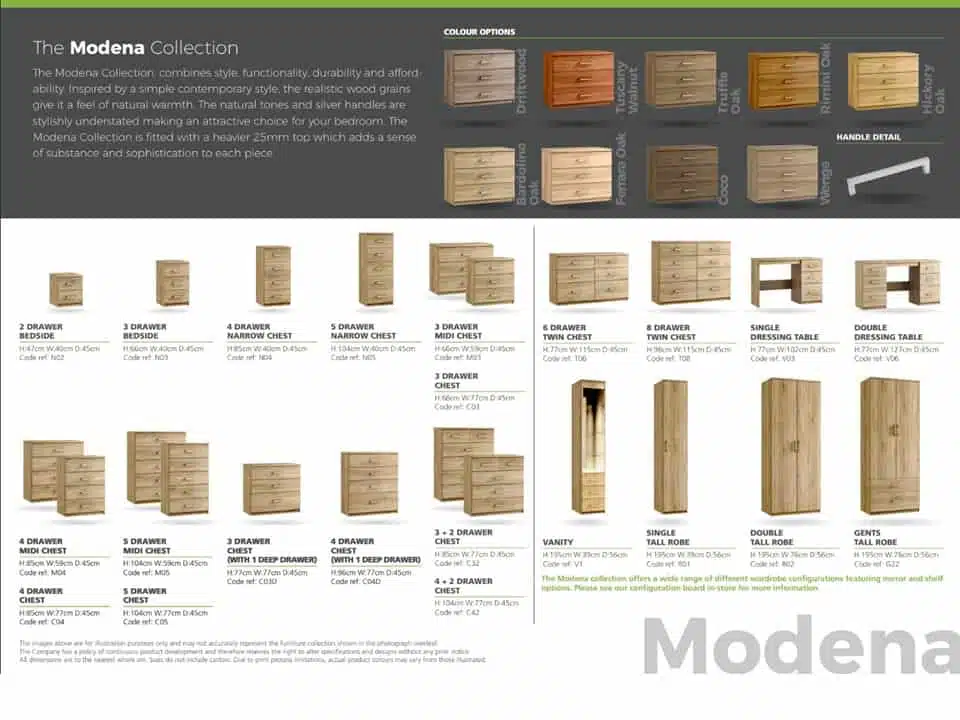 Modena Bedroom Furniture
See in store for more details or a call a member of our team.
01942 275 464
The Modena Bedroom Furniture collection is one of our best selling Pre Assembled Ranges of furniture. The Modena Bedroom Furniture range is manufactured in the U.K. to a very high standard! The Modena Collection, combines style, functionality, durability and affordability. It is inspired by a simple contemporary style.
If you are looking for a practical bedroom furniture range the Modena is the perfect choice. Maysons are a dynamic manufacture and did a great job of making the Modena have a contemporary style for a pre assembled range. There are many variations to this furniture collection.
Wardrobes
Single Wardrobe: 39cm x 195cm
Double Wardrobe: 76cm x 195cm
Tripe Wardrobe: 115cm x 195cm
The Modena Wardrobes all have to have a mirror featured on the front of the door. The Double & Triple wardrobe can feature integrated drawers.
Chest of Drawers
3 Drawer Chest
4 Drawer Chest
5 Drawer Chest
6 Drawer & 8 Drawer Twin Chest
Al chest of drawers in the Modena collection are offered in various sizes with Narrow, Deep and Standard width's.
Bedsides
Colour Finishes
The Modena collection is finished in Truffle Oak, Hickory Oak or Bardolino Oak.
If you are looking for a High Polish finish from Maysons, the Roma Collection would be perfect.
Our Showroom
You will find a 3 Door Wardrobe with centre mirror on our showroom floor. Accessoried with a 5 Drawer Chest & matching bedsides. All finished in Truffle Oak.
Maysons furniture has over 25 years' experience in the design and manufacture of bedroom furniture. They are constantly investing in modern machinery and quality manufacturing facilities. Maysons furniture has grown and adapted to delivering the latest styles and meeting new demands in bedroom furniture.