6 Bed Types Explained
Buying a bed. How difficult can it be? Well… as it goes, it can be surprisingly tricky. With so many different types of bed to choose from, selecting the 'right' one for you can soon turn into a confusing and...

Buying a bed. How difficult can it be?
Well… as it goes, it can be surprisingly tricky. With so many different types of bed to choose from, selecting the 'right' one for you can soon turn into a confusing and time-consuming task.
But the good news is, we're here to help.
Here at Dreamers Bed Centre, we live and breathe beds (as silly as that may sound!). This is our area of expertise and we know all of our products like the back of our hands. Which is why, we've created a simple 'bed buying guide' to assist with your purchase and make sense of all the jargon.
6 bed types available at Dreamers
1. Adjustable beds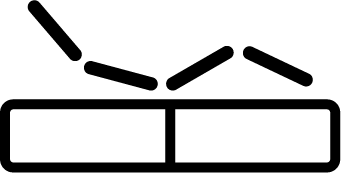 Just as the name suggests, this increasingly popular type of bed can be adjusted into a range of different positions. For example, the upper section can be lifted or the bottom can be raised to elevate the feet. And as such, it's a fantastic option for those with mobility issues or sore joints.
They typically come in the form of a divan-style bed, with a bed frame, mattress and headboard. And we stock some of the finest brands available, including Furmanac, Hestia and Mammoth. These are renowned for their innovative 'motion intelligent' furniture and their adjustable beds benefit from a host of advanced features, such as medical-grade foam and in-built massage technology.
The ideal option if you wish to achieve the optimal sleep position and reduce aches and pains.
2. Divan beds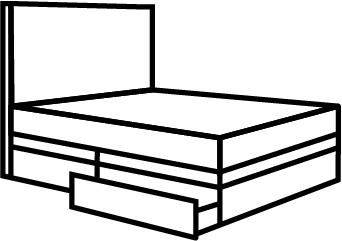 This is a very traditional type of bed, perfect for busy family homes and smaller bedrooms.
Divans come as a full package, with a divan bed base (typically made from a wooden frame and covered in fabric) and a matching mattress. They're also usually fitted with castor wheels, which allows them to be easily manoeuvred, and benefit from up to four storage drawers in the base.
They're a compact and practical design, yet don't compromise on style. And again, we stock some of the best brands in the industry – including Hypnos, Millbrook and Mammoth. Which means when you shop with us for a divan, you're guaranteed high quality and outstanding levels of comfort.
3. Ottoman beds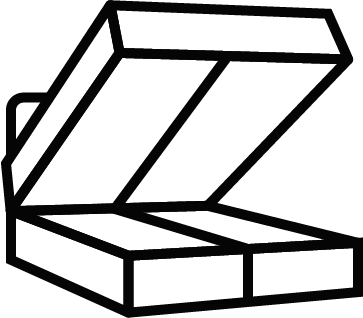 Ottomans are a relatively new type of bed and a brilliant way to maximise storage space in your bedroom. They're very similar to a divan in terms of their style and build. But rather than having under-bed storage drawers, the base is fitted with gas hydraulic pistons – which lift the base, either from the side or foot of the bed, to reveal a large, open storage space underneath.
As such, they're a great option for a small home.
Not only do they provide additional storage – creating the perfect place to keep bed linen, towels, spare duvets and more – they remove the need for additional storage furniture (e.g. an extra set of drawers). And with an ottoman, your bedroom is likely to feel much bigger and less cluttered.

4. TV beds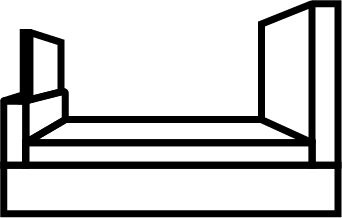 The no.1 bed type for gadget fans.
Multimedia TV beds are a worthwhile investment for anyone who enjoys watching a film before bedtime, or just fancies adding a little luxury to their bedroom.
The bed frame itself features a matching headboard and footboard, with enough space for a 42-43" flat-screen TV. At the touch of a button, this can be lifted out of the frame – via a quiet mechanised system – allowing you to access movies, box                                                           sets, games and more from the comfort of your bed.
TV beds tend to have a contemporary style, with a sprung-slat or solid base and either divan-style or ottoman storage. Those for sale in our store are supplied by Kaydian – a brand known for its ultra-modern and innovative designs. And as such, you can expect a range of advanced technical features, including directional speakers, headphone sockets, and multiple USB ports.
5. Guest beds

Guest beds are an excellent option if you wish to entertain overnight visitors.
This is a practical type of bed, intended for short-term use. Most have a compact design, with an additional mattress hidden beneath the frame – which can be                                                                quickly pulled out when it's needed. But they're still exceptionally comfortable                                                                  and will ensure a restful night's sleep for your guests.
Here at Dreamers, we currently stock a fantastic selection of trundle-style guests beds, by the leading brand Serene. These are all designed for ease of use, with hinged mechanisms and castor wheels that allow you to access the second mattress with minimal effort. And with a range of styles to choose from, there's bound to be one that's suitable for your spare room.
6. Sofa beds
Another convenient bed type for when guests come to stay. Or for those who enjoy a mid-day nap!
Sofa beds (also known as sleeper sofas) are a highly versatile option, that can be added to a spare bedroom, living room or even your home office. A variety of styles and sizes are available (including 2, 2.5 and 3 seaters), which means you can choose one that complements the room's décor. And when it's time to sleep, they can be quickly and easily transformed into a comfortable bed.
All of the sofa beds in our range are manufactured by Gainsborough; an established brand, known for its fashionable yet practical designs. And they either have in-built foam cushions – which lift out to create a bed – or a two-fold mechanism, with an interior pocket sprung mattress and slatted base.
Either way, they're a quick and easy sleeping solution and offer optimal levels of comfort.

Need further advice on bed types?
No problem. You can contact our team of specialists at any time.
As we said, beds are our forte – here at Dreamers. We know everything there is to know about the different styles available and are always happy to help. So if you're unsure of the best type of bed for your requirements, or have a question about any of our products, please feel free to get in touch.
You can either give us a call on 01942 275 464 or send an email to info@dreamersbedcentre.co.uk and we'll respond to your enquiry as soon as possible. In many cases, it's also worth visiting our showroom in Ashton-in-Makerfield. Here, all the different bed types are on display for you to see. And you're welcome to try them out and ensure you're making the right purchase.