Features
Bases & Ottomans
All our divan bases are handmade in the U.K, using the finest materials. We do have many options available to bespoke your base, it may be best to get in touch with us if you want to discuss more. Our End Lift Ottoman is one of our best selling bases as it provides the ultimate storage solution. All our bases are completely reinforced, top and bottom, to ensure they will support your mattress for many years and come in a vast range of luxury fabrics.
CONTACT US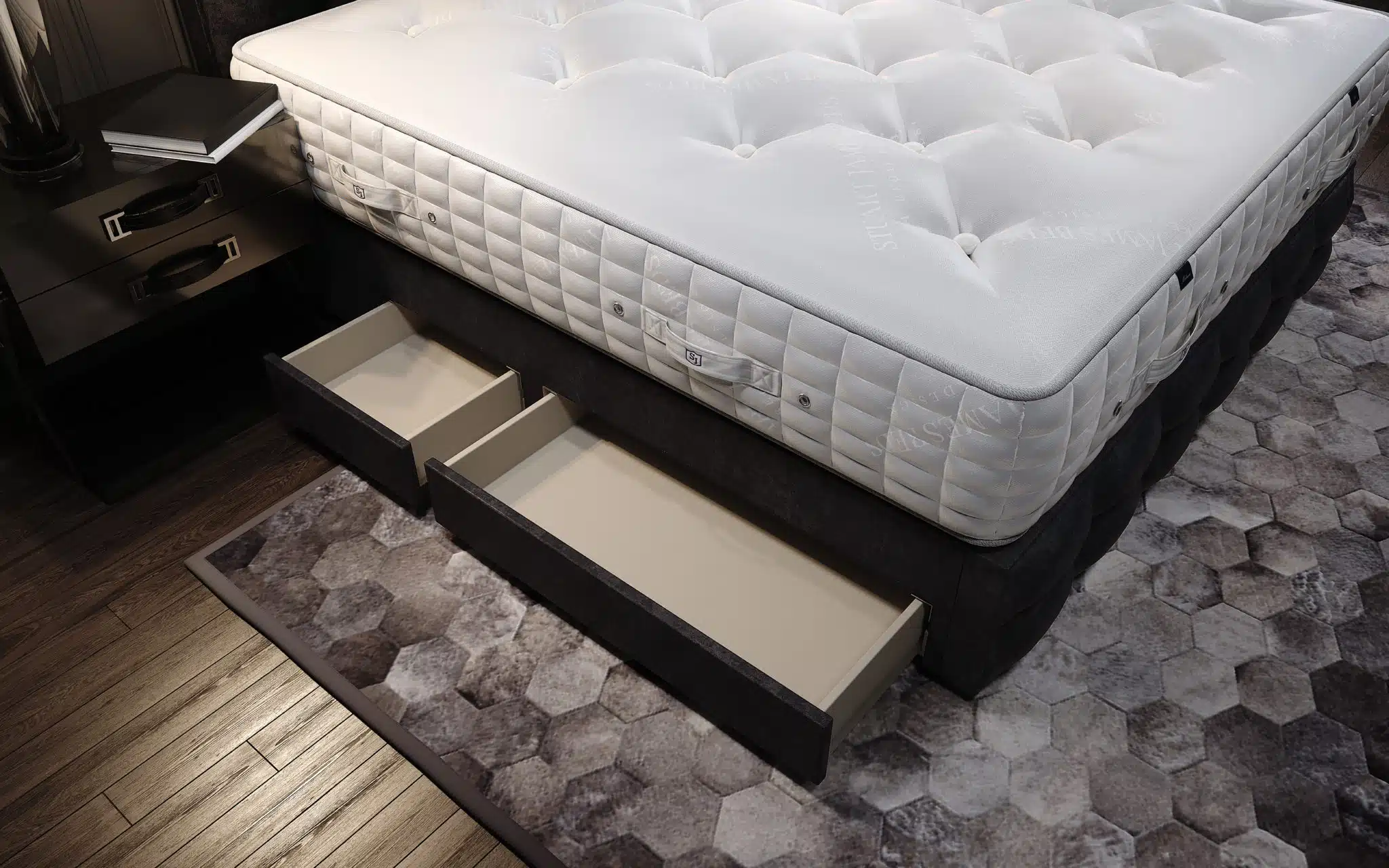 Luxury Headboards
Finish your Stuart James Bed with a true regal design floor standing headboard. Choose from eight luxury headboard designs which all come in a vast range of exquisite fabrics. The Duchess is pictured with the Catherine headboard.
Our headboards are all very bespoke, any design can come in any height. As standard they come 54" and 60" high. We can split any headboard to make them accessible to any bedroom (as height can be an issue with staircases).
CONTACT US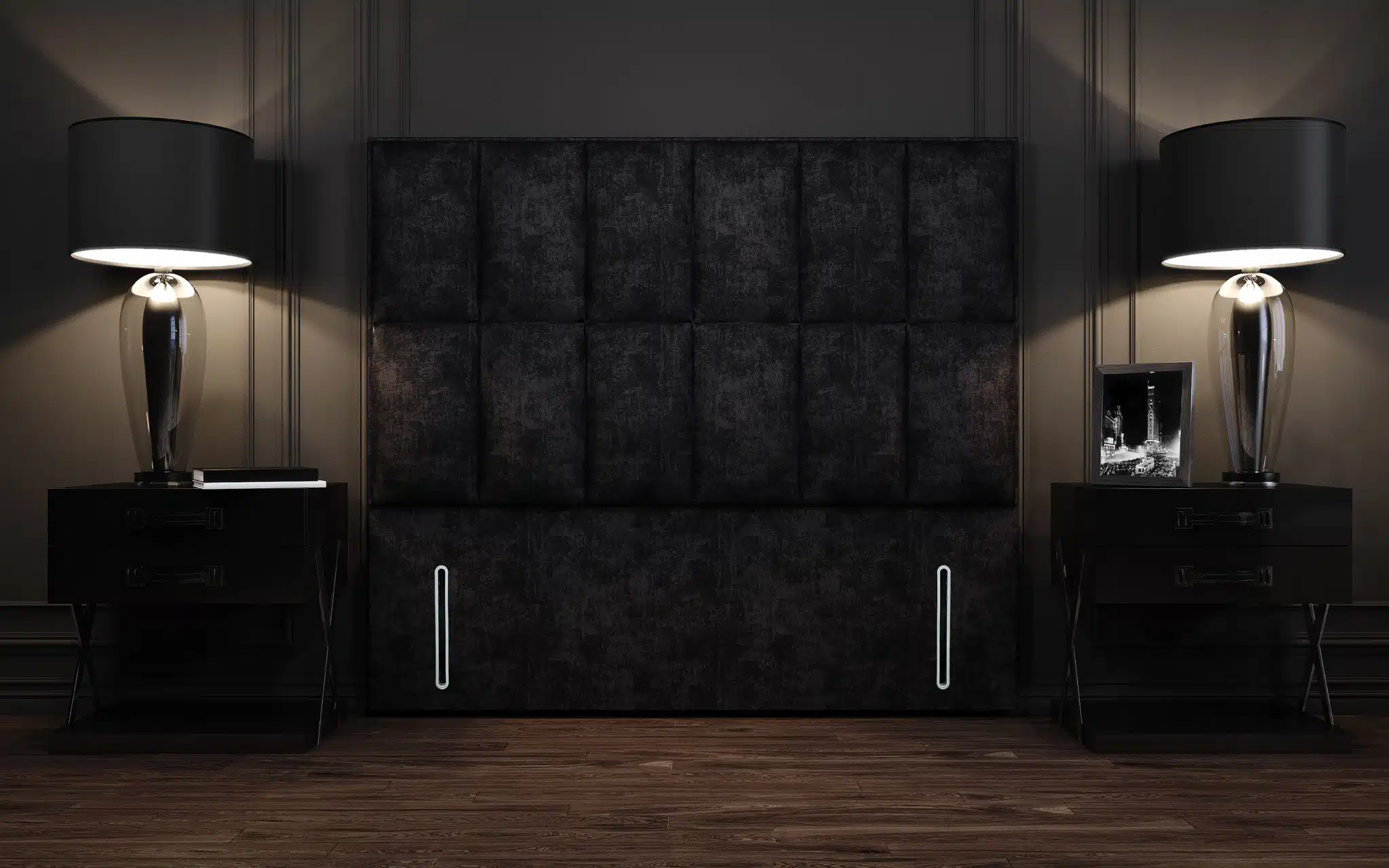 Fabrics
Our Stuart James fabrics are hand picked to give your bed the best look possible in your bedroom. Choose from a range of contemporary fabrics that will compliment any bedroom interior.
CONTACT US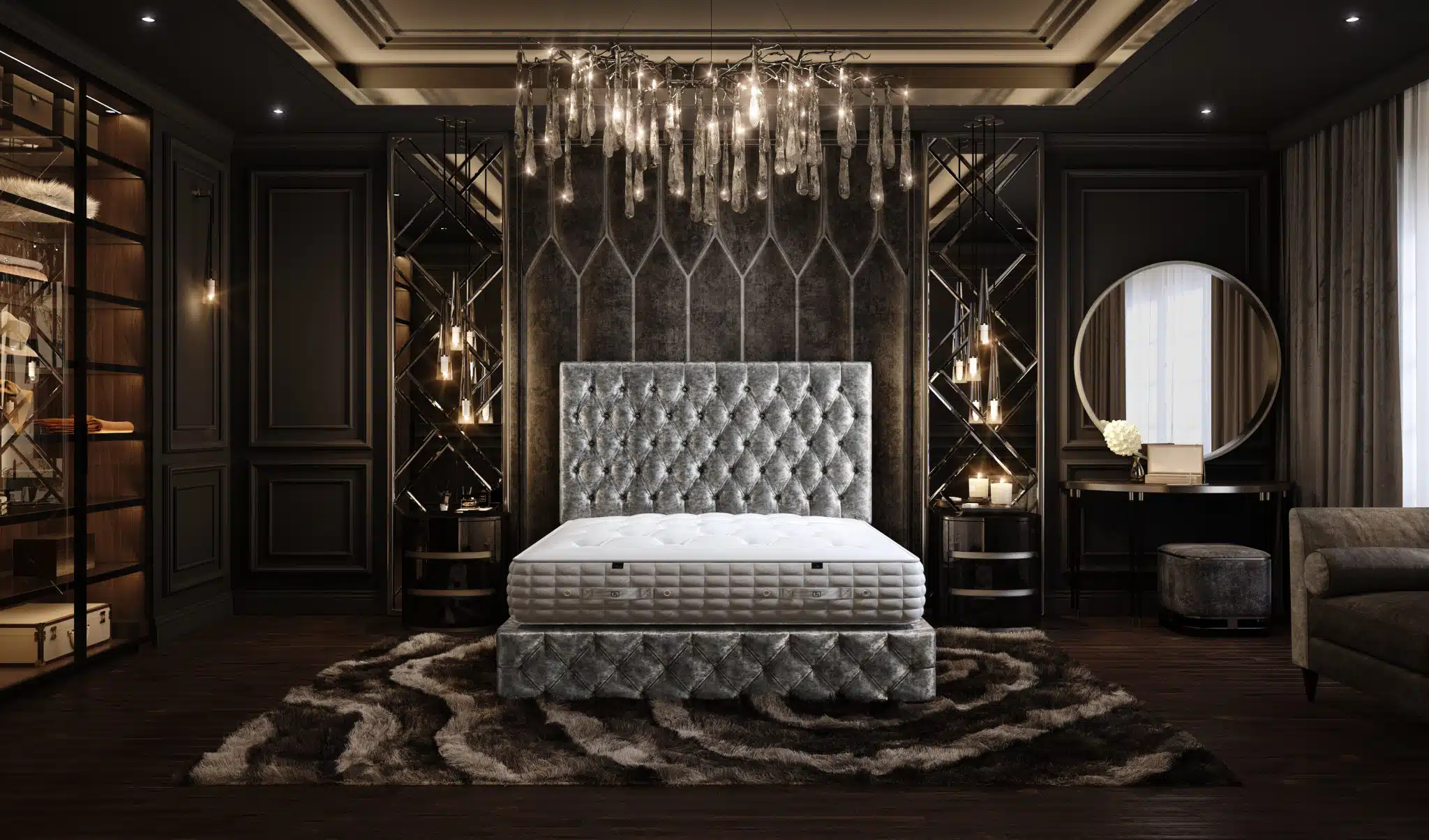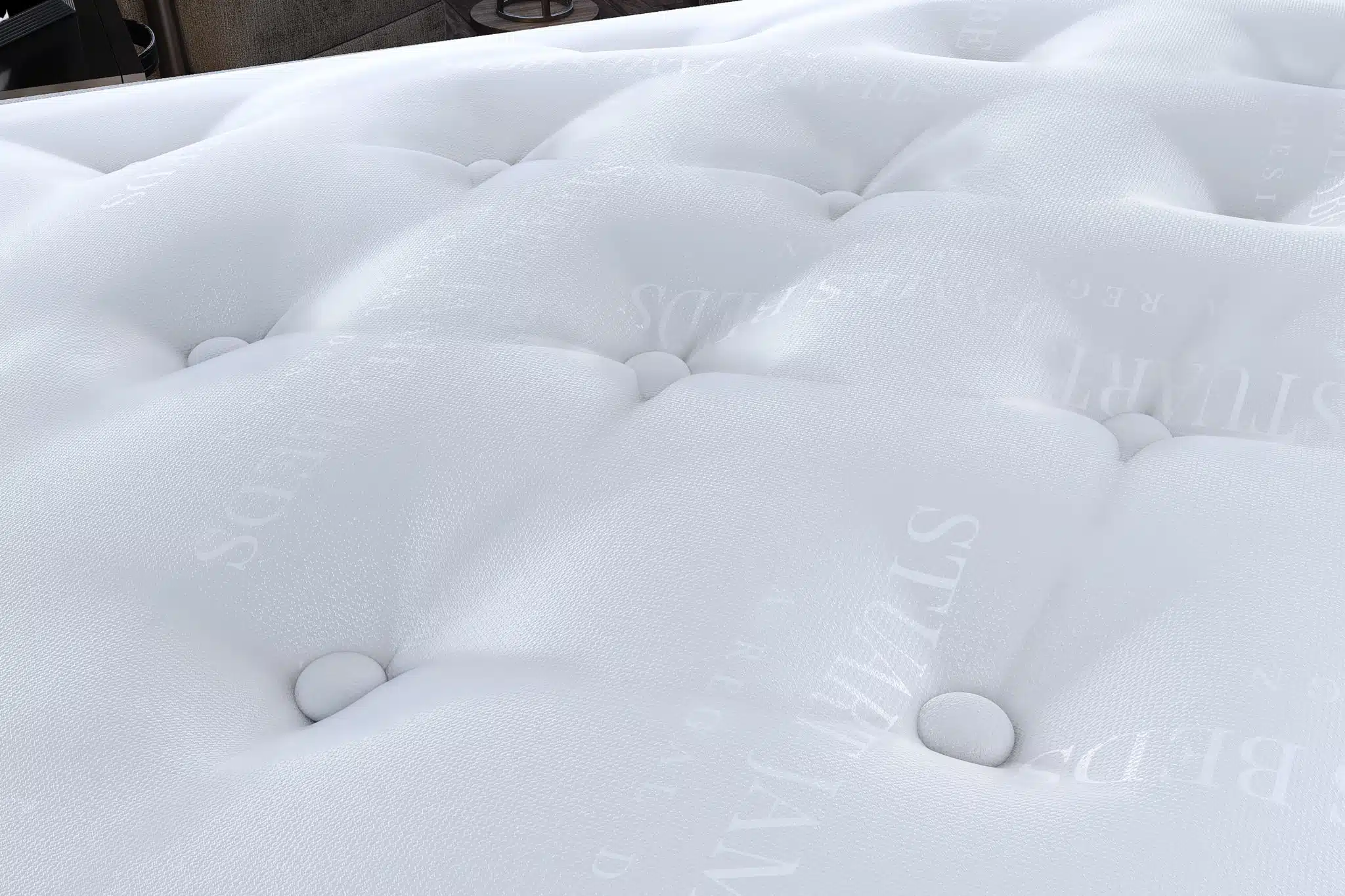 Design Your Comfort
Our Regal collection allows you to design your own comfort with many of our springs offering a dual tension spring, perfect for couples.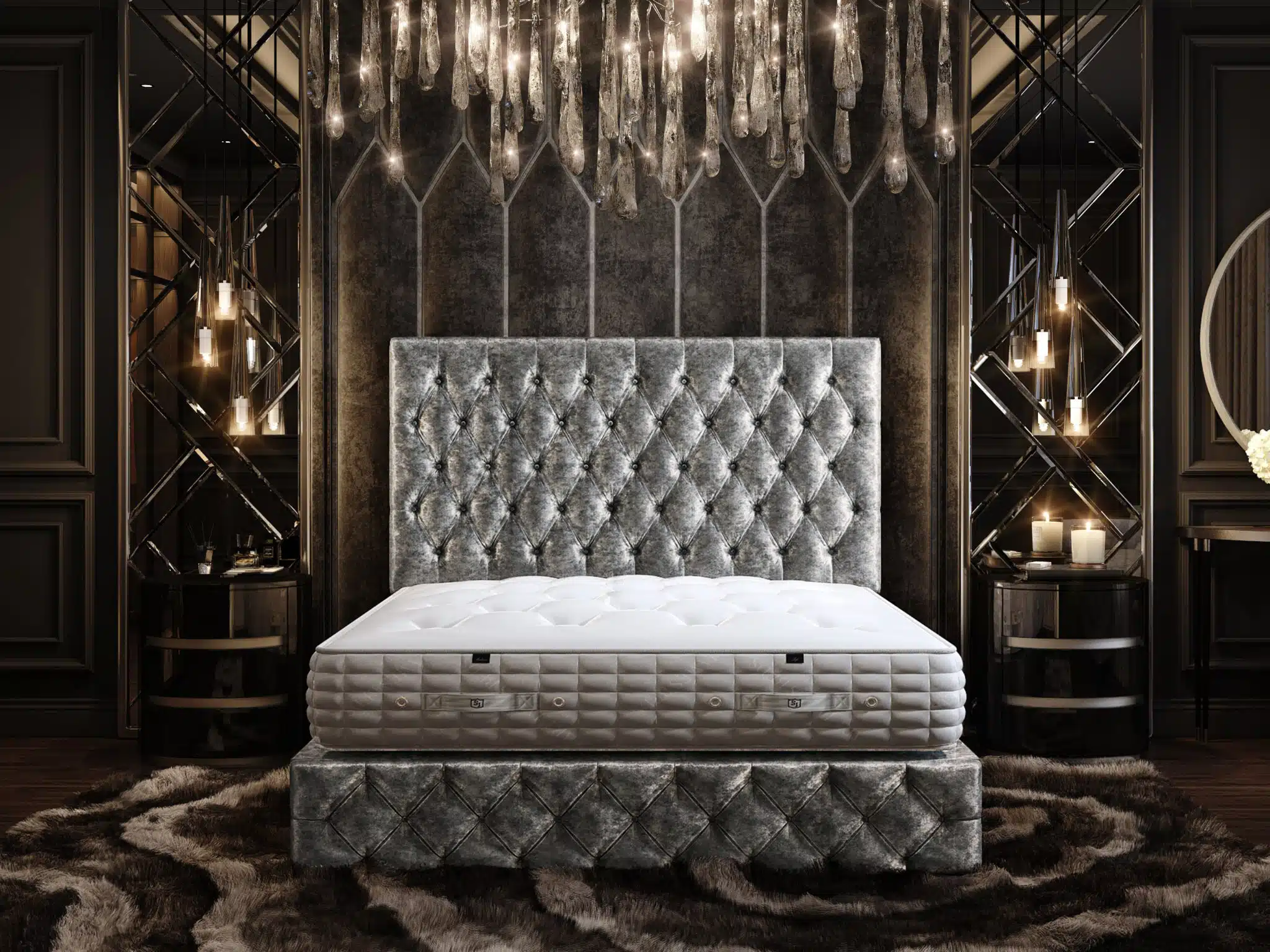 BESPOKE SERVICE
A complete bespoke service from comfort to finish. Create an individual comfort and finish your Stuart James Bed with a bespoke height headboard.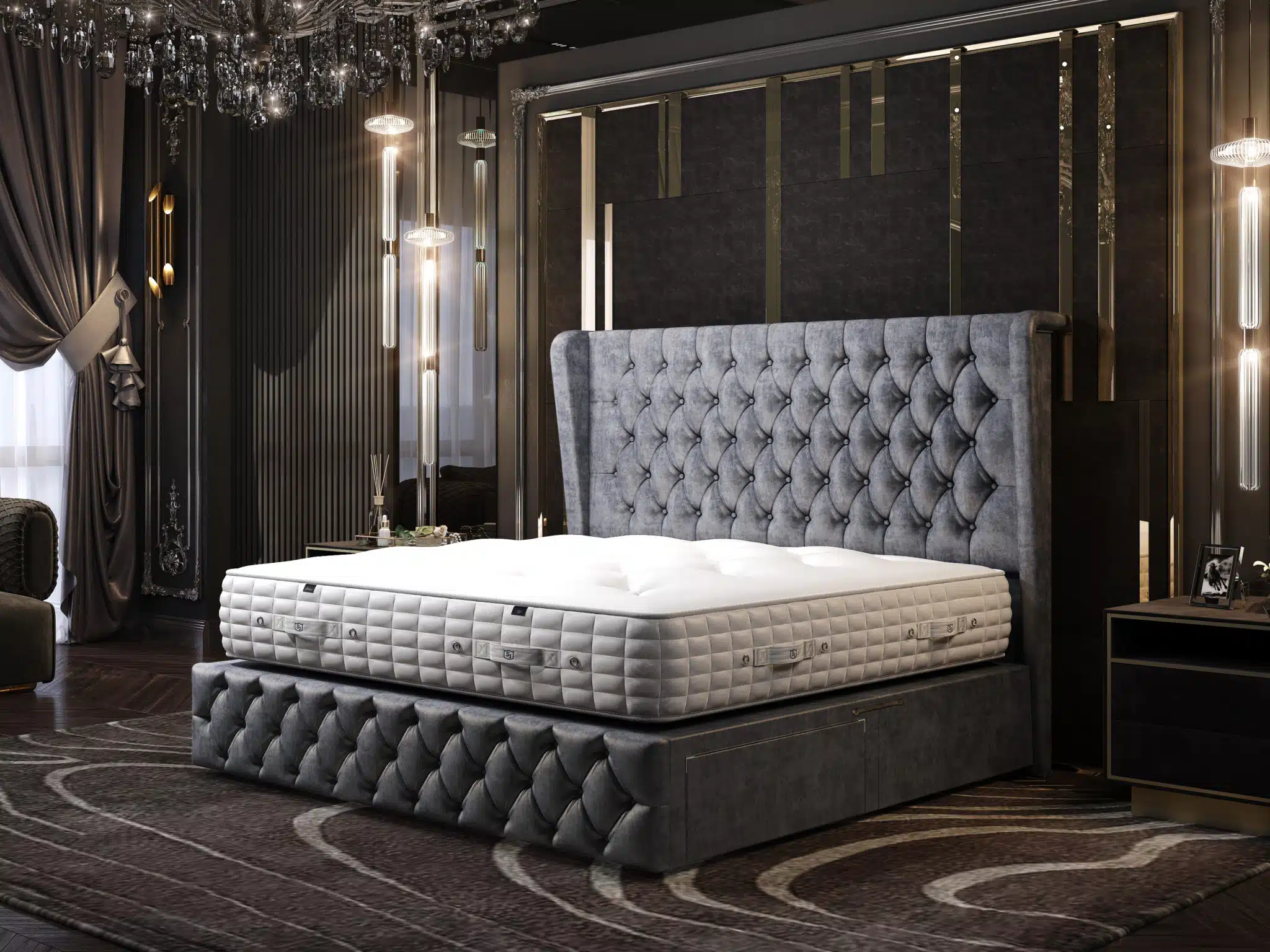 HANDMADE U.K.
We are proud to manufacture all of our Stuart James Beds to the highest standard in the U.K. Our vanadium steel springs are handmade In the U.K.
Layer 1
2520 Calico Twin
Dual Tension, Soft / Medium
Our Dual Tension Calico Spring comes with a Soft or Medium tension, allowing you to bespoke your comfort for you as an individual. You can have the mattress with a split tension (different tensions each side or the same tension throughout the whole mattress).
Layer 2
1000g Wool / Cotton GSM
Supportive, Bounce Back
1000g per square metre Wool / Cotton is used as the first layer as it protects the luxury filling above it from the spring. It provides a supportive bounce back between the spring and Alpaca / Pashmina above It to increase durability.
Layer 3
1000g Alpaca Bonded GSM
Sumptuous, Luxury
Alpaca is sumptuously soft and a very luxurious.The 1000g per square metre of bonded alpaca provides a little more support to the 200g of exclusive Peruvian white alpaca above it. We want to create a sumptuously soft comfort but also want it to give you many good years of sleep.
Layer 4
200g Peruvian White Alpaca GSM
Exclusive, Regal
200g per square metre of Peruvian White Alpaca will give you that touch of extra comfort needed for the perfect night's sleep. Peruvian White Alpaca is an exclusive, high end, soft layer of upholstery that completes the Regal Queen.
Reviews
"Absolutely fantastic service and such lovely staff! Carole helped me brilliantly looking for a good bed for my bad back and I couldn't be more happier! Thank you again!"
V Conboy
Where is Stuart James made?
Stuart James is handmade in the U.K
Where can I try a Stuart James mattress?
The full Stuart James range is available to view at Dreamers Bed Centre, WN4 0YU.
Why should I buy a Stuart James mattress?
Stuart James was created by a team with over 30 years of experience in the bedding industry. The main goal was to create a high quality range of mattresses that can stand the test of time, provide a long lasting comfort and ensure the highest of standards are met whilst value for money is provided. Our team has a lot of retail experience and has dealt with the issues that come from other manufactures. Our mattresses cover all the faults we have found throughout the years from edge support to ensuring the luxury layers we put in our mattresses are settlement proof.
What are vanadium steel springs?
Our calico springs are made in the U.K. using the finest vanadium steel springs, which are calico encased. A standard spring is encased with a polyprop cover, where as calico is 100% cotton, even the thread. This allows the spring to be far more flexible, durable and provide a far more responsive support.
What does GSM mean?
We refer to GSM when we talk about the amount of layers we put in our mattresses. We want you to know exactly what is in the mattress and what you are paying for. GSM stands for grams per square metre. For example, in our Regal Queen mattress you will find 1200g Laywool, 250g Pashmina, 200g Peruvian White Aplaca, 1000g Alpaca, 1000g Wool/Cotton. This is a total of 3650grams but that's how many grams is in every square metre of the mattress. All our mattresses are also completely reversible, so the comfort is exactly the same on both sides – that's a lot of filling!
Close
Your Cart
Recently added