Biphasic sleep – the latest sleep trend for 2021?
We sleep at night and stay awake during the day. For centuries now, that's just the way it's been. And no matter where you live in the world, everyone follows this same monophasic cycle. But what if there was another...

We sleep at night and stay awake during the day. For centuries now, that's just the way it's been. And no matter where you live in the world, everyone follows this same monophasic cycle.
But what if there was another – perhaps better – way to catch those much-needed Zs?
Biphasic sleep is an alternative sleeping pattern, that is predicted to become increasingly popular in 2021. Due to COVID-19, more people are working from home than ever before – which means, it's possible to break up the standard 8-hour working day and experiment with different schedules.
If you're looking to improve the quality of your sleep, and are open to new ideas, biphasic sleeping could be for you. And here we outline everything you need to know to get started.
What is biphasic sleep?
A biphasic sleeping pattern is completely different from the 'monophasic' pattern that we, as modern humans, have become accustomed to. Rather than sleeping for 7-8 hours after dark, sleep is split into two segments – one at night as usual, but also one during the day (ideally around 12pm).
The length of each sleep segment is up to you. It isn't set in stone and ultimately depends on your personal preferences. However, people tend to stick to one of the two following schedules:
Schedule One – 5 hours of sleep at night, followed by a 1-1.5 hour nap during the day
Schedule Two – 6 hours of sleep at night, followed by a short 20-minute nap during the day
Biphasic sleep is also commonly referred to as bimodal, segmented or diphasic sleep. But it shouldn't be confused with 'polyphasic'. Polyphasic is an extreme sleep routine, in which sleep is divided into 4-6 short intervals throughout the day. Not only is it difficult to get used to, it can also lead to sleep deprivation – and, therefore, is only recommended in very specific circumstances.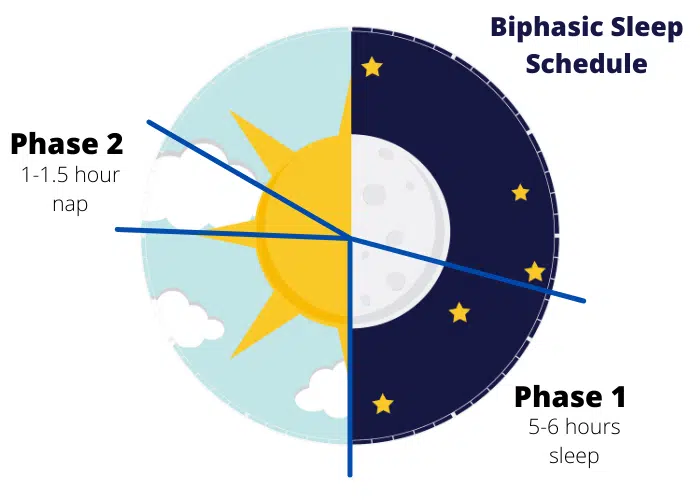 What are the benefits of biphasic sleeping?
Lots of historians argue that monophasic sleep isn't the 'natural' sleep pattern for humans. In fact, many believe that it was a product of social change and industrialisation. The working day made it very difficult for people to achieve daytime naps, which is why night-time sleeping became the norm. But if we look back in time, it seems that humans originally slept in two phases.
Of course, today, many people struggle to get their recommended 7-8 hours per night. And if this applies to you, you may find that you get more benefit from a biphasic sleep schedule.
Some studies have shown that biphasic sleeping can lead to:
– improved memory and cognitive function
– improved cardiovascular health
– reduced levels of stress
– a boost in daytime energy
– general feelings of being well-rested
However, it's important to note, these studies looked at the effects of a daytime nap – rather than biphasic sleep directly. And there's evidence to suggest that napping can, sometimes, perpetuate bad sleeping habits and may not be suitable for people with stress- or illness-related sleep issues.
The truth is, everyone is different, particularly when it comes to sleep – and what is right for one person, isn't necessarily the best option for someone else. So, the best bet is to experiment. Perhaps adopt a biphasic sleep cycle for a couple of weeks and note how you're feeling each morning? Or start small, by cutting your night-time sleep by one hour and replacing it with a midday nap?
If you start to see a positive effect, great – stick with it. If not, simply switch back to monophasic.
Create the perfect conditions for biphasic sleeping
Of course, to master biphasic sleeping, you're going to need the right bed – one that is comfortable enough for you to drift off to sleep quickly and make the most of your two shorter sleep segments. And if you've noticed that your bed is falling short of the mark, it could be time for an update.
This is where we can help, here at Dreamers Bed Centre
We understand exactly what it takes to create the perfect conditions for rest, whether that be during the day or night – and we have a comprehensive range of beds and mattresses to choose from. We also stock a selection of sofa beds, which could be the perfect option for your afternoon nap in the home office. There's something to suit all preferences. So why not take a look today?
And remember, we're on hand and happy to help. Our showroom is closed at the moment. But we're only ever at the other end of the phone and we're currently offering virtual appointments, in which you can chat to one of our experts via video call. So, for more information on biphasic sleep – or any of the products in our store – please feel free to get in touch. Either give us a call on 01942 275 464 or send an email to info@dreamersbedcentre.co.uk and we'll get back to you.