Which is the best pillow for me?
Forget the pillow talk… let's talk pillows. Good sleep posture is often the key to a good night's sleep. And whilst choosing the right mattress gets a lot of attention, the importance of the right pillow is frequently overlooked. Of...

Forget the pillow talk… let's talk pillows.
Good sleep posture is often the key to a good night's sleep. And whilst choosing the right mattress gets a lot of attention, the importance of the right pillow is frequently overlooked.
Of course, the 'best pillow' is completely subjective. One person's perfect cloud-like cushion could mean severe discomfort for someone else. And whilst a memory foam "wedge" can be supportive for some, it can be a source of chronic neck pain for others.
However, when buying a pillow online, there are some basic guidelines that can help to narrow down the options – based on how you sleep, your health and your preferences. Here we take a closer look.
3 factors to consider when buying a pillow
1. Sleeping position
When choosing a pillow, it's all about alignment.
The human neck naturally curves forward (to hold the weight of the head when upright) and it's important to maintain this curve – and keep the neck and spine neutrally aligned – whilst resting. To do this, you'll need a pillow that complements your normal sleeping position.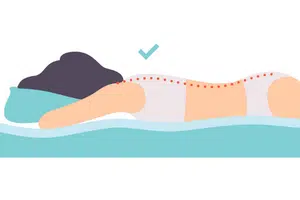 For front sleepers
A soft and relatively thin pillow is typically recommended.
Sleeping on your stomach automatically puts a lot of pressure on your spine. Therefore, it's important to compensate for this and prevent the head from being lifted too much. Essentially, the flatter your pillow, the better.
For back sleepers
A soft or medium comfort pillow is most suitable.
As long as your mattress is in good condition, your neck and spine should already be resting in a natural shape – so very little support is required. Simply choose a pillow that feels comfortable, without pushing your head too far forwards.
For side sleepers
A firm memory foam pillow is likely to be best.
Lying on your side puts significant pressure on your shoulders and hips, as well as causing misalignment of the neck and spine. As such, a great deal of support is necessary, and you'll need a pillow that keeps your head in the optimum position.
Most people switch positions throughout the night and won't neatly fit into one of these categories. But you are likely to have a preference. Do you spend the most time on your front, back or side?
It's worth giving it some thought and buying a pillow that's suitable for your 'dominant' sleeping position. Or, if you're guilty of tossing and turning – and really don't have a favourite – our advice is to choose a pillow with a medium thickness and comfort rating, to cater to all sleeping positions.
2. Health requirements
Whilst it's important to select a pillow based on your sleeping position, it's also sensible to consider your health conditions – as this could affect the most suitable pillow filling for you, personally.
For example, maybe you have asthma or another allergy?
Pillows made from some synthetic materials can lead to a build-up of dust mites, which can cause further irritation to your respiratory system. Therefore, it's best to avoid these synthetic pillows and opt for a cotton or microfibre pillow instead – which are soft, breathable and hypoallergenic.
Perhaps you suffer from back or neck pain? If so, you may benefit from a supportive memory foam pillow, which will perfectly contour to your head and prevent over-arching of the neck.
Pillows are now also available that are specifically designed to combat common sleep hindrances, such as overheating. So, be sure to think about what does or could potentially keep you awake at night and choose a pillow that suits your health needs and will facilitate a good night's sleep.
3. Comfort preferences
The fact is, to get a good night's sleep, you need to feel comfy. And that's why – aside from the elements outlined above – when buying a pillow, it's also important to consider your preferences.
Do you prefer a soft, fluffy pillow? One that's just slightly supportive? Or one that's firm with very little give?
Just like mattresses, pillows are graded in terms of their comfort or tension rating – from soft to medium to firm. And the 'most comfortable' for you is simply a matter of individual preference.
In most cases, front sleepers will automatically feel better with a soft pillow. Whilst back and side sleepers tend to be comfier with medium or firm. But it varies from person to person and, before you choose a pillow based solely on your favourite position, it's certainly something to think about.
Discover your perfect pillow today
Here at Dreamers Bed Centre, we appreciate that when it comes to the 'best pillow', there isn't one size that fits all. It's a personal thing, different for everyone. And that's why, as part of our essentials department, we stock a comprehensive range – with something to suit all sleeping positions, health requirements and comfort preferences.
Cotton pillows with a hypoallergenic hollowfibre filling. Medical-grade memory foam designed for pressure relief. Luxury microfibre pillows with cooling properties.
We have it all. So why not take a look?
All of our pillows are available to buy online, delivered to your home within just a few days. And despite being made by some of the best brands in the industry – Mammoth, Optima, Sonlevo etc. – they're priced affordably, starting from just £40.
Simply browse our full collection and find the ideal match for you.
And remember, if you have any questions, you're always welcome to get in touch. For further advice on how to choose a pillow – or to discuss the products available in our store – just give us a call on 01942 275 464. Alternatively, please feel free to send an email to info@dreamersbedcentre.co.uk and one of our in-house experts will respond as soon as possible.