Stuart James Empress Headboard
Stuart James Empress Headboard
Luxury Upholstered Designs
Design
Unique, Art Déco style design
The Empress is an Art Deco influenced headboard is handcrafted with luxury fabrics for an exuberant, glamorous look with unique, deeply padded panels. Shown on our website with our Regal Eden mattress the Empress stands 54″ high but can be made bespoke to your individual needs.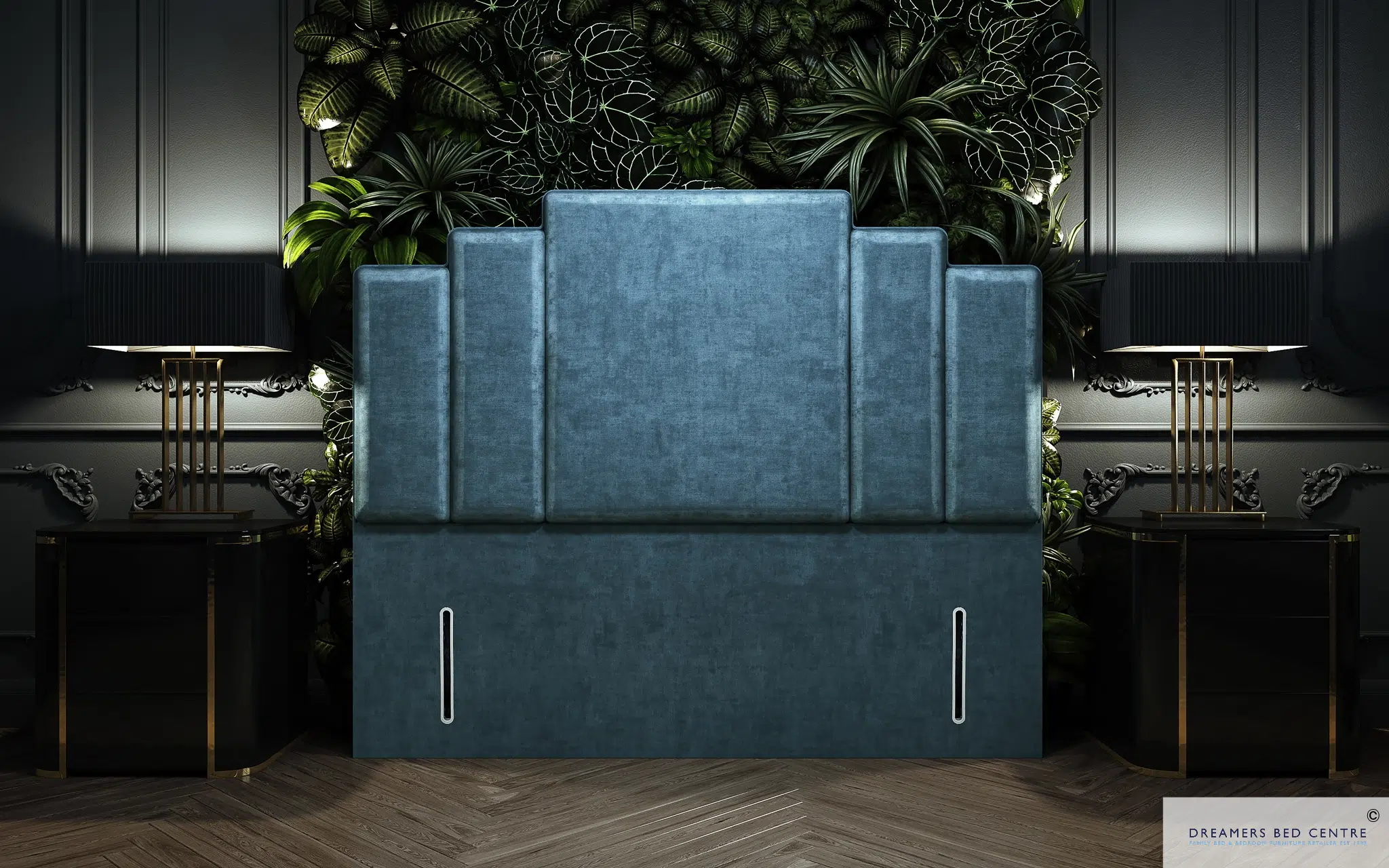 Regal Style
Opulent Headboard
An Art Deco design with a gradient headboard which radiates opulence and luxury. The Empress headboard is available on any Stuart James Divan or Ottoman base and available in many different luxury fabrics.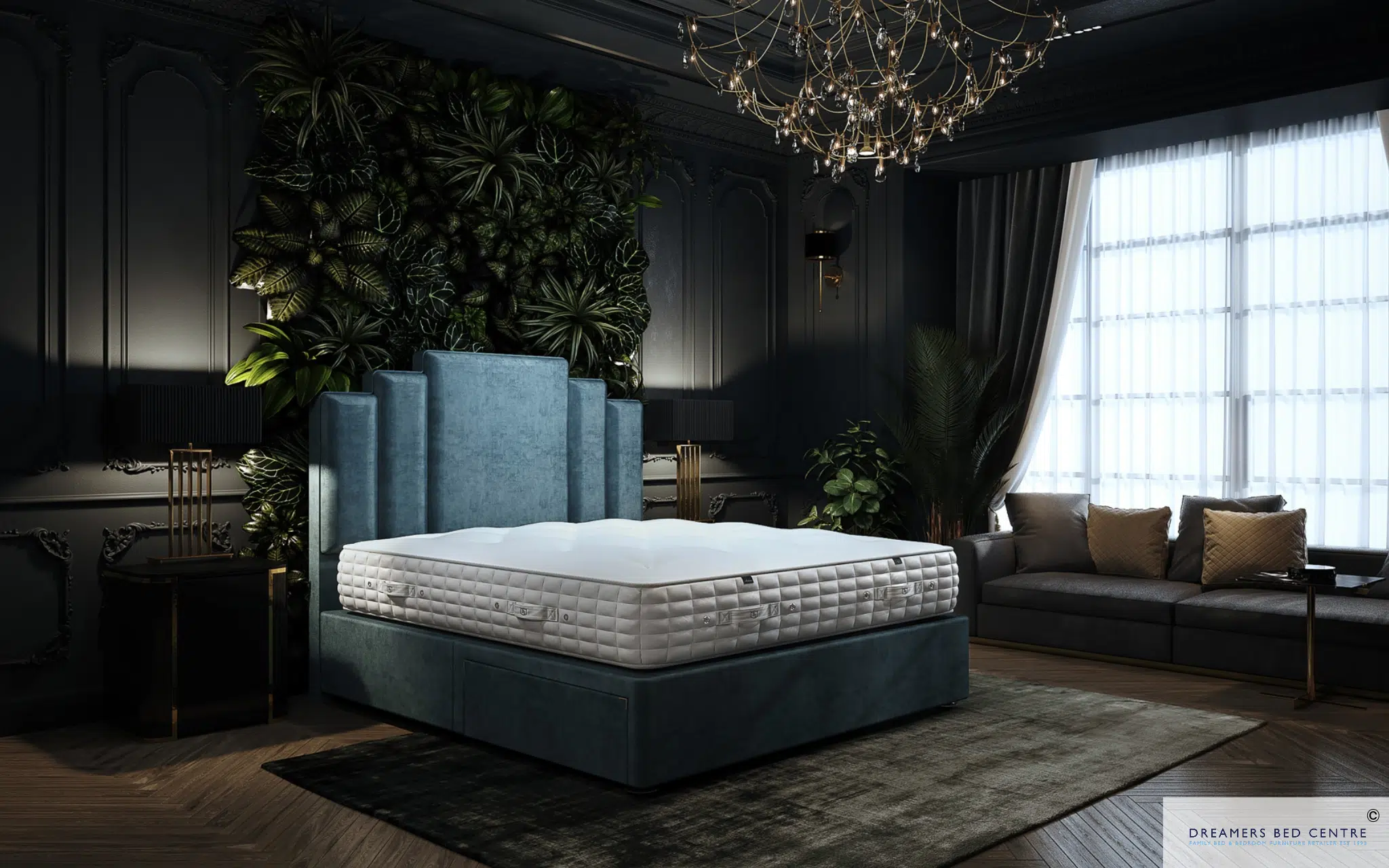 Footboard
Finish your Stuart James Bed with a matching Footboard
Whilst creating the perfect finish for your Stuart James Bed, pair the Empress headboard with a matching luxury footboard to complete the overall look. (Not Available With An Ottoman Bed)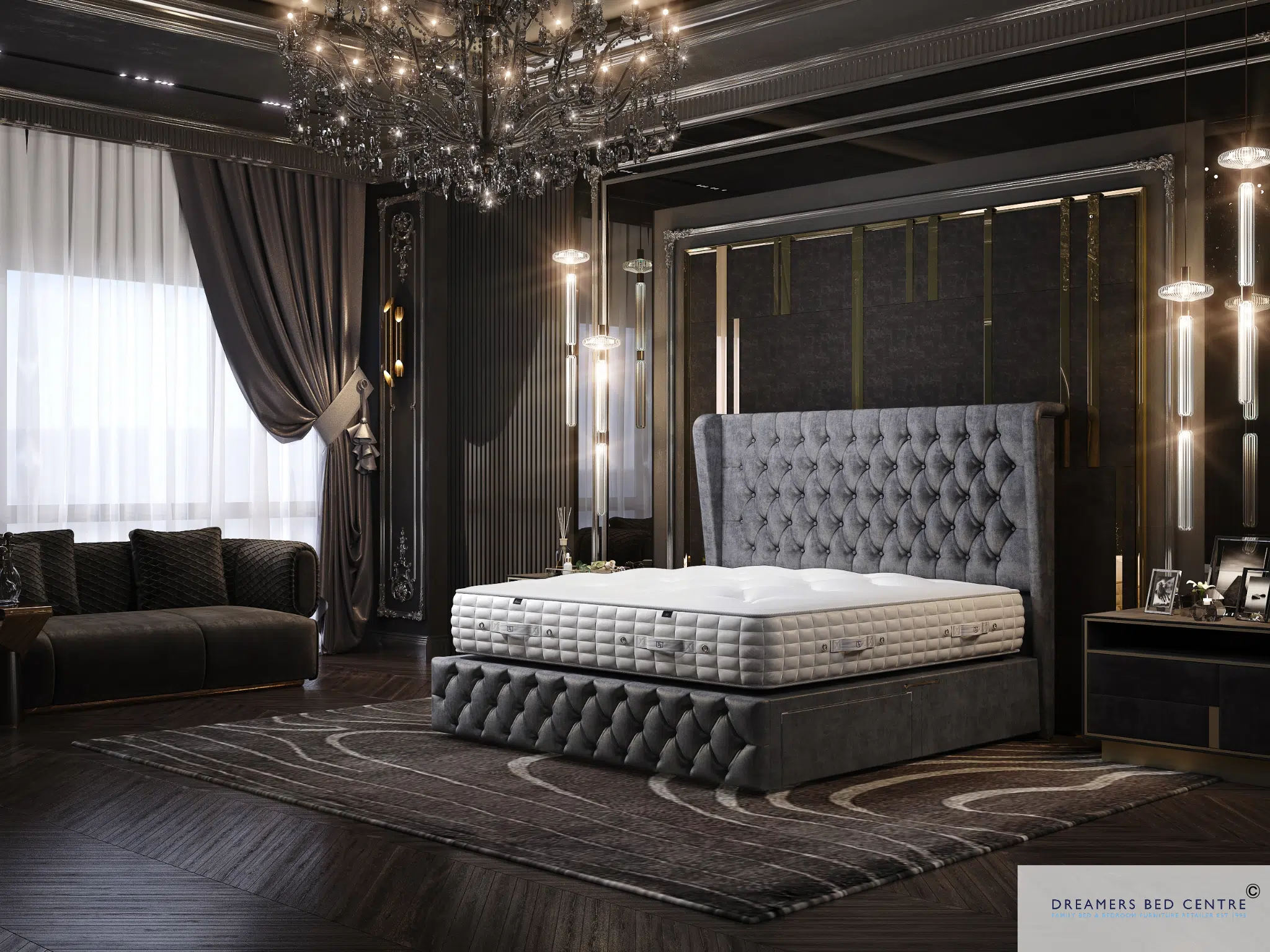 DESIGN YOUR BED
Our Regal collection of Stuart James Beds allows you to design your own comfort, from a bespoke mattress tension to a custom made headboard.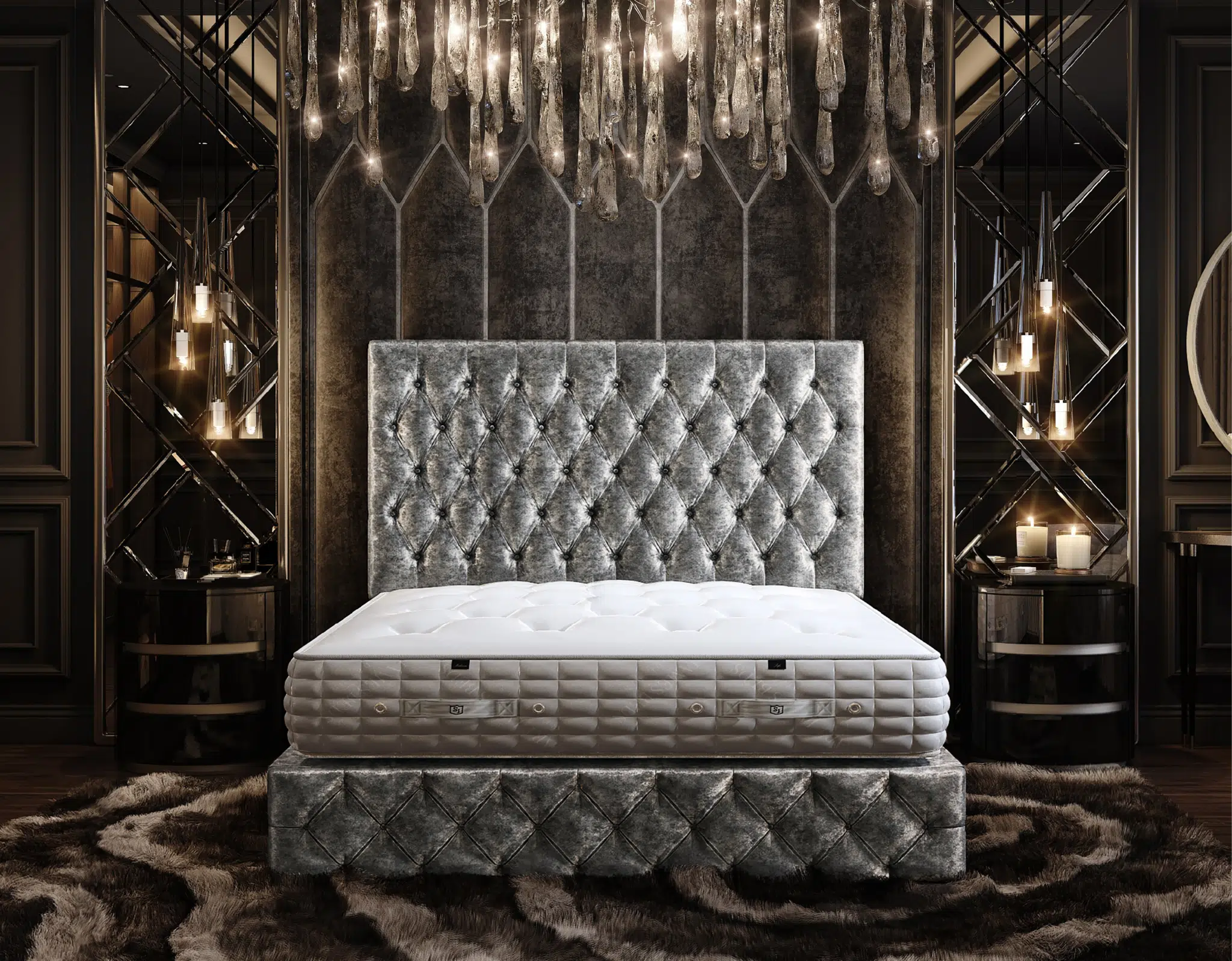 BESPOKE SERVICE
A complete bespoke service from comfort to finish. Our range is dynamic, our headboards are available with custom heights and more!
HANDMADE U.K
We are proud to manufacture all of our Stuart James Beds to the highest standard in the U.K. Our Headboards are handmade in the U.K.
Features
Luxury Headboards
Finish your Stuart James Bed with a true regal design floor standing headboard. Choose from eight luxury headboard designs which all come in a vast range of exquisite fabrics. The Regal is pictured with our Emperor mattress and reinforced divan base.
CONTACT US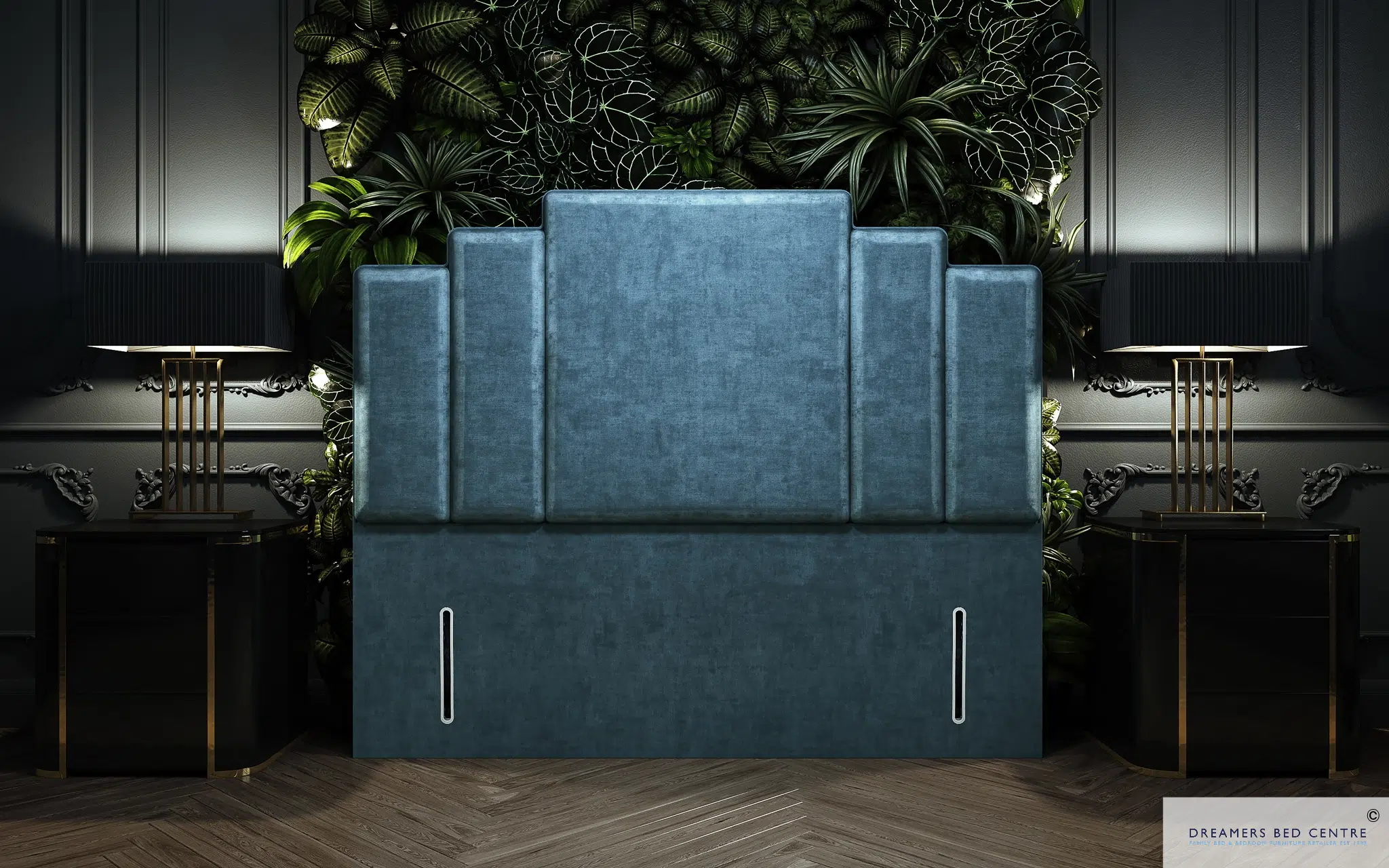 Bespoke Headboards
Our headboards are all very bespoke, any design can come in any height. As standard they come 54" and 60" high. We can split any headboard to make them accessible to any bedroom (as height can be an issue with staircases).
CONTACT US
Fabrics
Our Stuart James fabrics are hand picked to give your bed the best look possible in your bedroom. Choose from a range of contemporary fabrics that will compliment any bedroom interior. All our luxury Stuart James fabrics are available to view in the product builder above.
If you would like a better look at one of our fabrics – please contact us and we will happily send a sample out to you or they can all be viewed in our showroom.
CONTACT US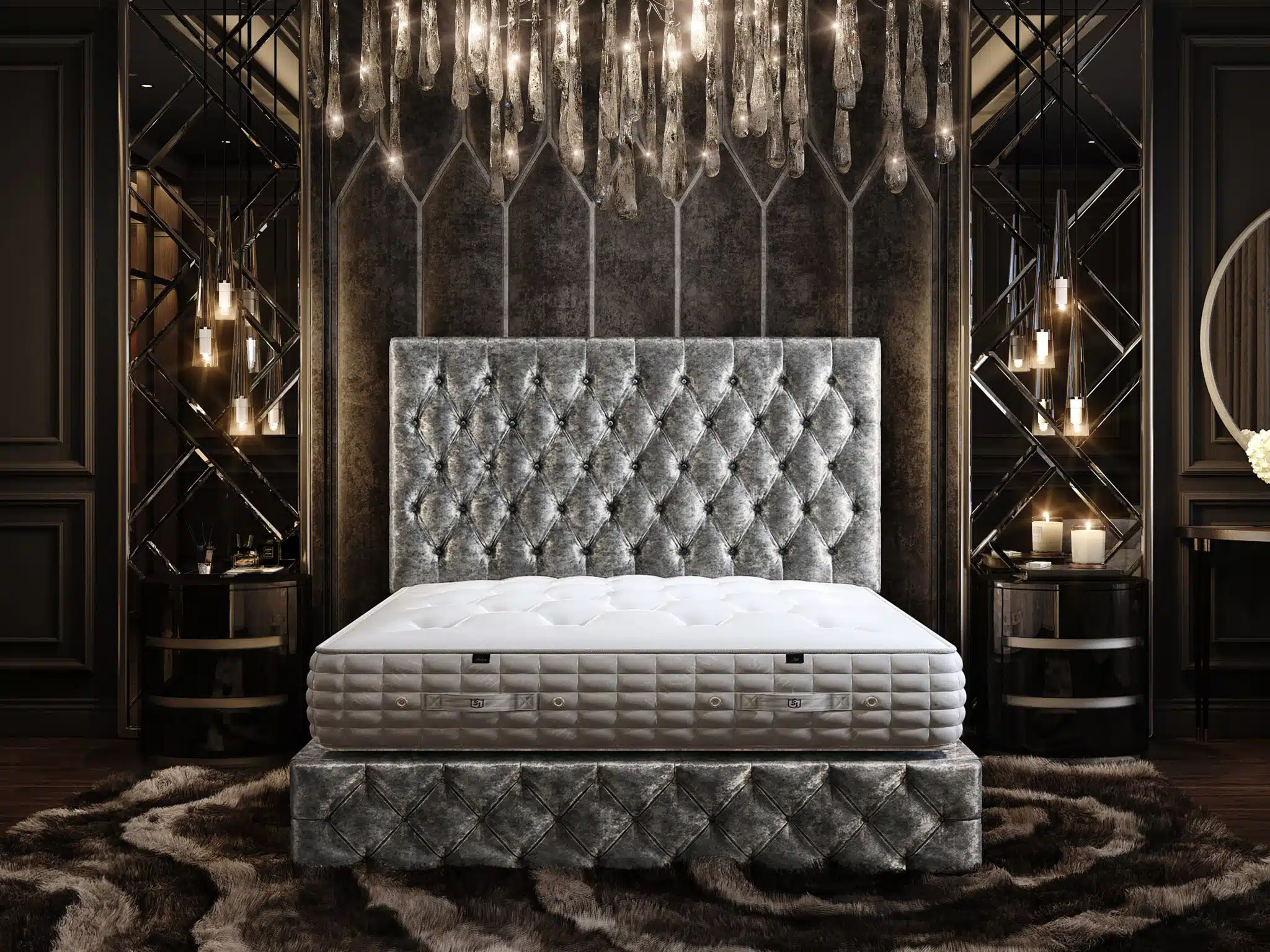 Where are Stuart James Beds Headboards made?
All our Stuart James Headboards are handmade in the U.K. The springs, mattresses, divan beds and headboards are all made by hand in the United Kingdom.
Where can I view the Stuart James Headboard range?
The full Stuart James range is available to view at Dreamers Bed Centre, WN4 0YU.
How are Stuart James Headboards made?
Our team has over 30 years of experience in the bedding industry. We hand picked our Headboard designs for our Stuart James Regal Collection as we know exactly what our customers want most. All our Stuart James Headboards are handmade to the highest standard, the feature a solid thick timber, sumptuously upholstered with deep padding and are finished in the most exquisite fabrics. Take our Britannia Headboard for example, the headboard is thicker than most bed frames. We ensure the face of our headboards are sumptuous, deeply padding and not only look Regal but are comfortable to sit up against.
Why are some Stuart James Beds Headboards split?
All our Stuart James headboards are bespoke and handmade. Every request is a possibility, it just depends on available materials and time. Many of our Headboards are 60" high – for some, delivery of a 60" may not be possible without taking a window out, due to a tight staircase or low ceiling. Therefore, we split our headboards in two as standard and then they can be bolted together on site. Simple!
I'm not sure if a 60" Headboard will fit?
Within our Stuart James Headboard range, most headboards are available 54" or 60". However, some do come 60" as standard and it takes us to the question above, this is the exact reason we split our headboards. Our team has dealt with many customers before that wanted 60"+ headboards and when they were delivered, they didn't fit up the stairs! To save the hassle, we split our 60" headboards as standard.